8.6.2018 Publication Shorter unentangled proofs for ground state connectivity

Can one considerably shorten a proof for a quantum problem by using a protocol with a constant number of unentangled provers? We consider a frustration-free variant of the QCMA -complete ground state connectivity (GSCON) problem for a system of size n with a proof of superlinear size. We show that we can shorten this proof in QMA(2): There exists a two-copy, unentangled proof with length of order n, up to logarithmic factors, while the completeness–soundness gap of the new protocol becomes a small inverse polynomial in n.

by Libor Caha, Daniel Nagaj, Martin Schwarz
Quantum Inf. Processing 17, 174 (2018) |+++|


QETWORK APVV-14-0878, SASPRO

5.6.2018 Publication Clocks in Feynman's computer and Kitaev's local Hamiltonian: Bias, gaps, idling, and pulse tuning

We present a collection of results about the clock in Feynman's computer construction and Kitaev's local Hamiltonian problem. First, by analyzing the spectra of quantum walks on a line with varying end-point terms, we find a better lower bound on the gap of the Feynman Hamiltonian, which translates into a less strict promise gap requirement for the quantum-Merlin-Arthur–complete local Hamiltonian problem. We also translate this result into the language of adiabatic quantum computation. Second, introducing an idling clock construction with a large state space but fast Cesaro mixing, we provide a way for achieving an arbitrarily high success probability of computation with Feynman's computer with only a logarithmic increase in the number of clock qubits. Finally, we tune and thus improve the costs (locality and gap scaling) of implementing a (pulse) clock with a single excitation.

by Libor Caha, Zeph Landau, and Daniel Nagaj
Phys. Rev. A 97, 062306 (2018) |+++|


QETWORK APVV-14-0878, OAQS VEGA 2/0130/15, SASPRO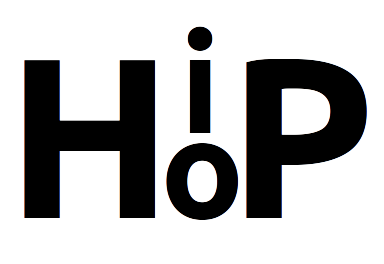 23.5.2018 Project
HIPHOP kick-off meeting
Daniel Nagaj and Michal Sedlák are participating at kick-off meeting of Quantera project HiPhoP in Milan (23-24/05). | +++ |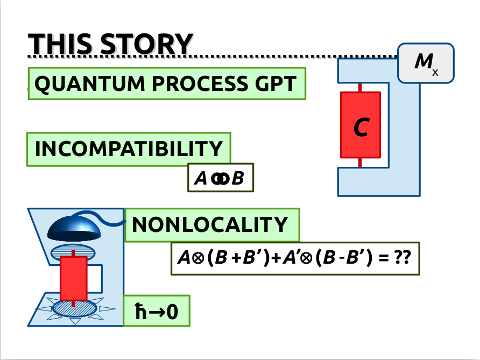 21.5.2018 Invited talk
Incompatibility and nonlocality for quantum process GPT
Today Mario Ziman is giving an invited talk at HongKong-Shenzen workshop on Quantum Information Science in China. | +++ |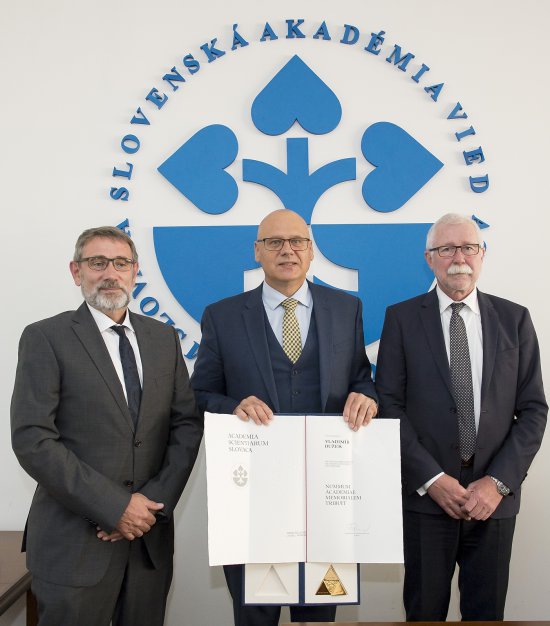 16.5.2018 Award
Gold Medal of Slovak Academy of Sciences for Prof. Vladimír Bužek
For his extraordinary achievements in physics and also to celebrate his anniversary Prof. Vladimír Bužek was awarded the highest prize of Slovaka Academy of Sciences - SAS Gold Medal (in Slovak "Zlatá medaila SAV"). Prof. Bužek founded in Slovakia the school of quantum optics and quantum information processing. He is recognised worldwide for his discoveries on quantum cloning machines, quantum protocols for secret sharing and anonymous voting, quantum estimations, quantum programmable processors, etc. | +++ | (in Slovak)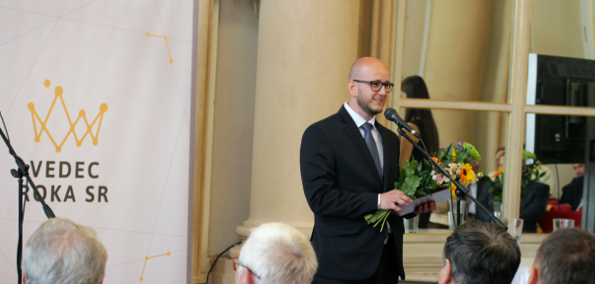 15.5.2018 Award
Who is The Young Scientist of the Year 2017 in Slovakia?
We are all happy that our colleague Daniel Reitzner was awarded a prestigous national prize "Mladý vedec roka 2017" (Young Scientist of the Year 2017) for his work on quantum walks and quantum incompatibility. Congratulations! | +++ |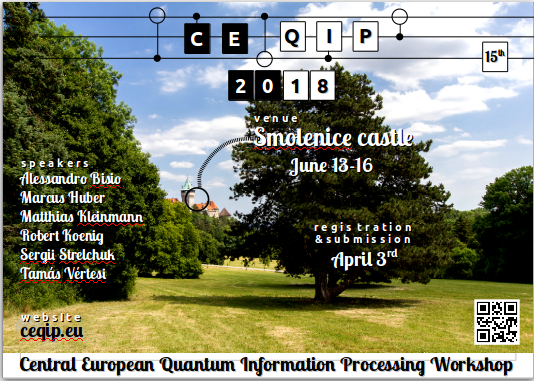 1.3.2018 Workshop
CEQIP 2018
We organize already 15th edition of traditional CEQIP workshops in June 13-16 in Smolenice castle. Come to enjoy the unique atmosphere of these meetings. We are looking forward to meet you there. | +++ |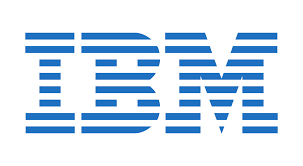 2.4.2018 Info
Quantum computing being one of 5-in-5 predictions of IBM
At IBM Think conferece has presented the selection of five technologies that will help change our lives within 5 years. "Today, quantum computing is a researcher's playground. In five years, it will be mainstream. It will be used extensively by new categories of professionals and developers looking to this emerging method of computing to solve problems once considered unsolvable." | +++ |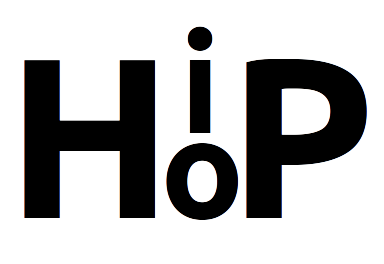 1.4.2018 Project
High dimensional quantum Photonic Platform
Europen QuantERA project HIPHOP is starting to be implemented today. | +++ |

28.3.2018 Publication Effects of nuclear spins on the transport properties of the edge of two-dimensional topological insulators

The electrons in the edge channels of two-dimensional topological insulators can be described as a helical Tomonaga-Luttinger liquid. They couple to nuclear spins embedded in the host materials through the hyperfine interaction, and are therefore subject to elastic spin-flip backscattering on the nuclear spins. We investigate the nuclear-spin-induced edge resistance due to such backscattering by performing a renormalization-group analysis. Remarkably, the effect of this backscattering mechanism is stronger in a helical edge than in nonhelical channels, which are believed to be present in the trivial regime of InAs/GaSb quantum wells. In a system with sufficiently long edges, the disordered nuclear spins lead to an edge resistance which grows exponentially upon lowering the temperature. On the other hand, electrons from the edge states mediate an anisotropic Ruderman-Kittel-Kasuya-Yosida nuclear spin-spin interaction, which induces a spiral nuclear spin order below the transition temperature. We discuss the features of the spiral order, as well as its experimental signatures. In the ordered phase, we identify two backscattering mechanisms, due to charge impurities and magnons. The backscattering on charge impurities is allowed by the internally generated magnetic field, and leads to an Anderson-type localization of the edge states. The magnon-mediated backscattering results in a power-law resistance, which is suppressed at zero temperature. Overall, we find that in a sufficiently long edge the nuclear spins, whether ordered or not, suppress the edge conductance to zero as the temperature approaches zero.

by Chen-Hsuan Hsu, Peter Stano, Jelena Klinovaja, and Daniel Loss
Phys. Rev. B 97, 125432 (2018) |+++|


26.2.2018 Publication Dipolelike dynamical nuclear spin polarization around a quantum point contact

We theoretically investigate the dynamical nuclear spin polarization in a quantum point contact (QPC) at finite magnetic field. We find that when the QPC is tuned to be spin selective, at the conductance of e2/h, a finite bias induces a dipolelike (spatially antisymmetric) nuclear polarization: at the QPC center the polarization is zero, while, for GaAs parameters, the nuclear spins down (up) are induced on the source (drain) side. We predict that the dipolelike polarization pattern can be distinguished from a uniform polarization due to a qualitatively different response of the QPC conductance to the NMR field.

by Peter Stano, Tomosuke Aono, and Minoru Kawamura
Phys. Rev. B 97, 075440 (2018) |+++|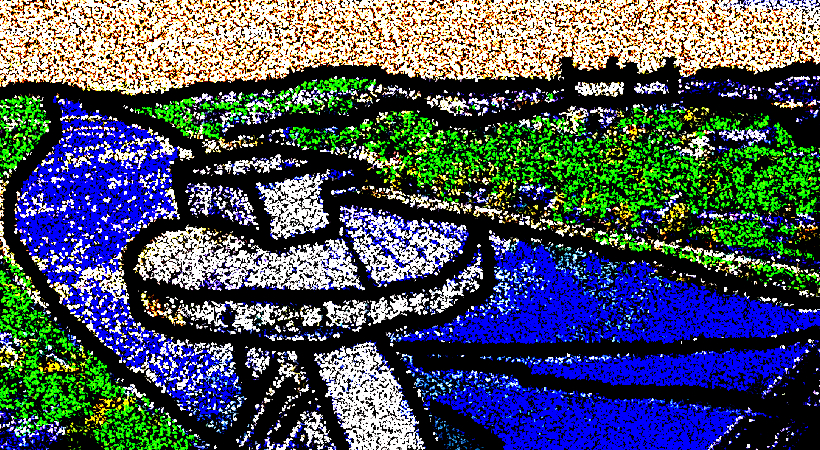 25.2.2018 Workshop
MACROQUAS 2018 - Optomechanical route to macroscopic superpositions
The aim of this workshop (22-23/03/2018, Bratislava) is to pin-­point the suitability of levitated optomechanics as a test-­bed for the investigation of the validity of quantum theory at the mesoscopic and macroscopic scale;; identify the fundamental challenges of such tests and the it will address opportunities offered by a space-­based configuration;; compare the capabilities of levitated optomechanics to those of other platforms such as magneto-­levitated one for the identification of the best-­suited experimental platform. | +++ |.

21.2.2018 Research publication
Incompatibility of unbiased qubit observables and Pauli channels

A quantum observable and a channel are considered compatible if they form parts of the same measurement device, otherwise they are incompatible. Constrains on compatibility between observables and channels can be quantified via relations highlighting the necessary tradeoffs between noise and disturbance within quantum measurements. In this paper we shall discuss the general properties of these compatibility relations and then fully characterize the compatibility conditions for an unbiased qubit observable and a Pauli channel. The implications of the characterization are demonstrated on some concrete examples.

by Teiko Heinosaari, Daniel Reitzner, Tomáš Rybár, and Mário Ziman
Phys. Rev. A 97, 022112 (2018) | +++ |


APVV-14-0878 (QETWORK), VEGA 2/0130/15 (OAQS), SASPRO (0055/01/01)

19.2.2018 Project
High dimensional quantum Photonic Platform
The only successful QuantERA project with Slovak partner HiPhoP has been aproved for financing by the Slovak Academy of Sciences. QuantERA call is understood as the pre-phase of European Quantum Technology Flagship. The project will start on April 1st.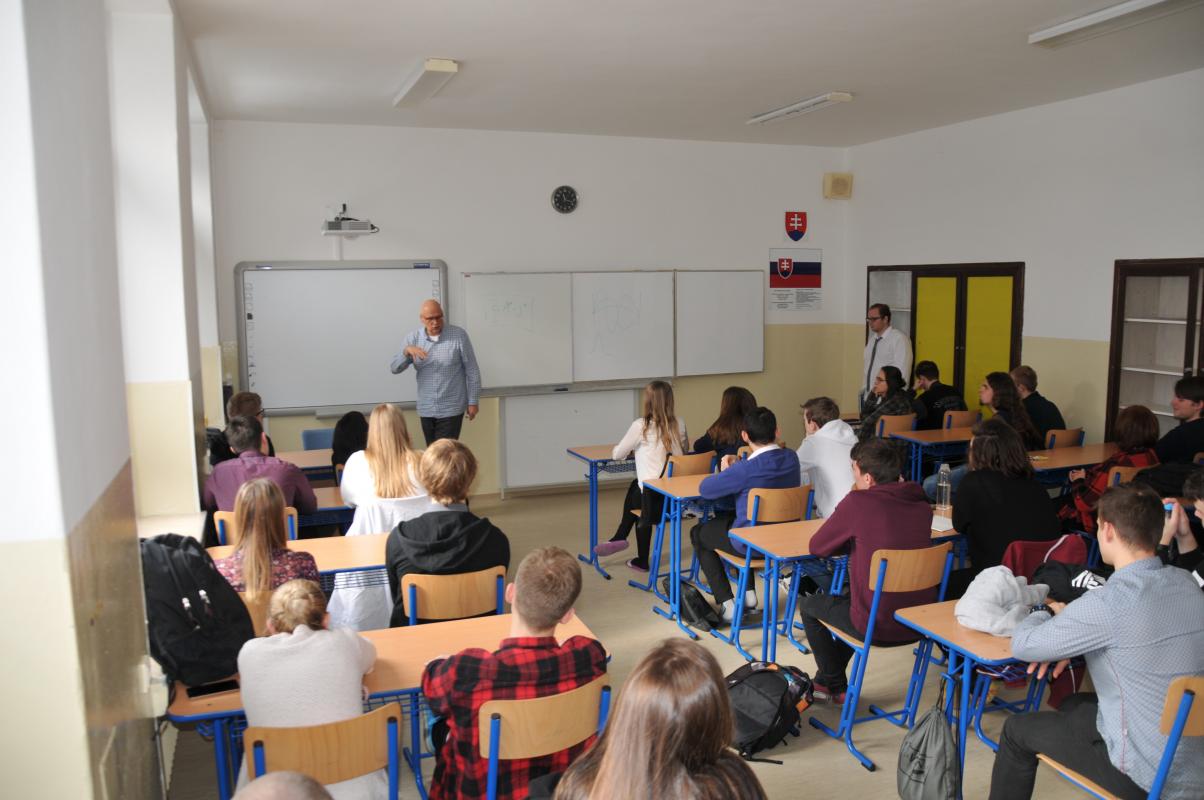 12.2.2018 Popularisation
Theoretical physics
Today, as an invited guest at the alumni event CEREBRUM of Gymnasium J. Papánka, Prof. Vladimír Bužek is delivering a popular talk for high school students describing his excitement by research in physics. | +++ |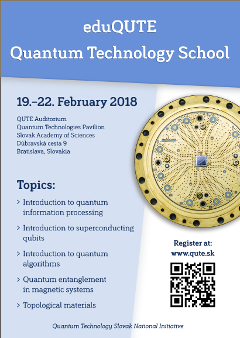 25.1.2018 School
1st eduQUTE school on quantum technologies
This pilot school is organized as part of the preparation of a Slovak research initiative in quantum technologies. Its main goal is to introduce the elementary physical principles of quantum technologies developing by researchers in Slovakia. It is open for any student or researcher. The subjects will be presented at master level.
| download leaflet |

When: 19-22/02/2018
Place: Pavilón kvantových technológií, Dúbravská cesta 9, Bratislava - Patrónka [map]
11.1.2018 Conference talk
Perfect Probabilistic Storing and Retrieving of Unitary channels
Today Michal Sedlák is presenting a contributed talk at Hong Kong workshop on quantum information and foundations focused on The Role of the Observer. | +++ |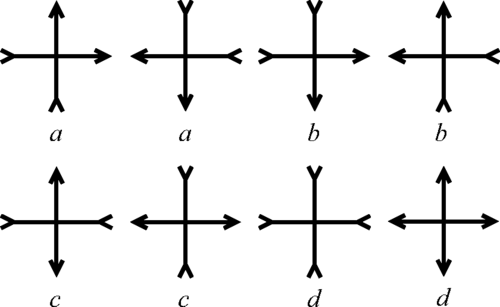 9.1.2018 Research publication
Original electric-vertex formulation of the symmetric eight-vertex model on the square lattice is fully nonuniversal

The partition function of the symmetric (zero electric field) eight-vertex model on a square lattice can be formulated either in the original "electric" vertex format or in an equivalent "magnetic" Ising-spin format. In this paper, both electric and magnetic versions of the model are studied numerically by using the corner transfer matrix renormalization-group method which provides reliable data. The emphasis is put on the calculation of four specific critical exponents, related by two scaling relations, and of the central charge. The numerical method is first tested in the magnetic format, the obtained dependencies of critical exponents on the model's parameters agree with Baxter's exact solution, and weak universality is confirmed within the accuracy of the method due to the finite size of the system. In particular, the critical exponents η and δ are constant as required by weak universality. On the other hand, in the electric format, analytic formulas based on the scaling relations are derived for the critical exponents ηe and δe which agree with our numerical data. These exponents depend on the model's parameters which is evidence for the full nonuniversality of the symmetric eight-vertex model in the original electric formulation.

by Roman Krčmár and Ladislav Šamaj
Phys. Rev. E 97, 012108 (2018) |+++|


APVV-16-0186 (EXSES), VEGA 2/0130/15 (OAQS),