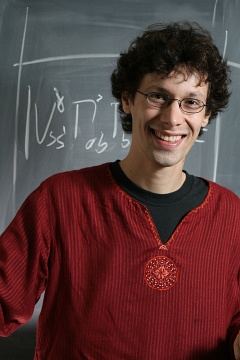 News
(10/15)

Off to Japan, visiting Tomoyuki Morimae to finish a paper on restricted verifier QMA.

(9/15)

Looking forward to the Frontiers workshop in Maryland.

(8/15)

See you at AQIS in Seoul!

(7/15)

I won a SASPRO (Marie Curie) grant, so I'm well settled and funded in Bratislava for the next 3 years.

(6/15)

Looking forward to the Benasque workshop and Aneto (-:

(1/15)

See you at QIP!

(12/14)

Talking at QuPa in Paris, and TEDxSalon Bratislava.

(10/14)

Back to Vienna for 3 months.

(9/14)

Talking about bombs and quantum money at QCRYPT in Paris.

(7/14)

Accepted to FOCS again, this time with a work on quantum expanders.

(1/14)

A fantastic Quantum Hamiltonian Complexity semester in Berkeley starts!

(12/13)

Teaching at the ICTP-VAST-APCTP winter school in Hanoi, Vietnam.

(10/13)

You can meet me at FOCS, where I'll present our work on Quantum 3-SAT with David Gosset.

(9/13)

I'll be teaching recitations for Caslav Brukner's introductory Quantum info course here in Vienna.

(9/13)

You can meet me in Cambridge at the Newton Institute.

(6/13)

Benasque quantum info workshop.

(3/13)

Current topics update: QMA1, quantum walks and scattering algorithms, TPS and quantum chemistry, complexity of simple qutrit Hamiltonians.

(2/13)

In Spring 2014, I'll be a fellow at the Simons Institute (Berkeley) for the Quantum Hamiltonian Complexity semester.

(1/13)

For the second year in a row, we won the best poster award at QIP. This time with Quantum Speedup by Quantum Annealing, together with R.Somma and M.Kieferová.

(9/12)

I am on leave of absence from the Slovak Academy of Sciences, working as a postdoc in the Verstraete group at UniWien.
Daniel Nagaj
| researcher
a theoretical physicist living on the border of quantum information,
many-body physics and theoretical computer science
Research
Students and teaching
Jozef Melicher (undergraduate, quantum walks & scattering)
Libor Caha (graduate, quantum complexity, papers)
Mária Kieferová (undergraduate, quantum walks & aqc, papers, currently a PhD student at IQC Waterloo)
Introduction to Quantum Information, Comenius University (spring 2011, spring 2012)
Quantum Information II, University of Vienna (with F.Verstraete, spring 2013)
Intro to Quantum Information, University of Vienna (with C.Brukner, fall 2013)
Work experience & references
curriculum vitae, list of grants and projects
Slovak Academy of Sciences | independent researcher, 2015-... | M. Ziman | RCQI Bratislava
Simons Institute | research fellow, 2014 | Z. Landau | Quantum Hamiltonian Complexity
University of Vienna | postdoc, 2012-2013 | F. Verstraete | Verstraete group
Slovak Academy of Sciences | postdoc, 2008-2012 | V. Bužek
MIT Center for Theoretical Physics | PhD, 2003-2008 | E. Farhi

Comenius University, Bratislava | undergrad, 1998-2003 | V. Bužek
Other